By requesting a free demo, you will be asked to share your contact information in order for a sales consultant to get in contact with you and setup a session
SMARTPHONE VISION TESTING

QUICK EYE SCREENING FOR VISUAL ACUITY
A quick eye screening on a smartphone to screen a patient's visual acuity at a distance. Developed by Vula Mobile, the app calculates the visual acuity and highlights any decrease in distance vision at the end of the screening. The Vula Vision screening can easily be added to a user's hearX clinical solution test battery and is integrated with the hearX mHealth Studio data management and reporting platform.
QUICK AND EASY-TO-USE
User-friendly interface that provides screening results in less than 2 minutes.
COST-EFFECTIVE
Accurate screenings at a fraction of the cost.
CLINICALLY-VALIDATED
Validated against other visual acuity screenings.
INTEGRATED DATA MANAGEMENT
Central data, patient and facility management, through mHealth Studio App and Cloud platform.
LIGHT PERCEPTION
Screening automatically continues to light perception screening if the patient is unable to complete the acuity screening.
AVAILABLE OFFLINE
Once installed, the app is available offline, enabling use in remote and unserved areas.
COMPARING THE PEEK ACUITY AND VULA VISION MOBILE APPS FOR VISUAL ACUITY TEST ACCURACY, FAIL RATE AND TEST DURATION
There was no statistically significant difference between the LogMar scores obtained using the Peek Acuity or Vula Vision acuity tests. Based on a fail criterion (>0.2 Logmar) the pass and fail outcomes were significantly associated between Peek Acuity and Vula Vision tests with an 92% overall correspondence. Vula Vision test was 23% faster on average compared to Peek Acuity test.
Download the white paper study
here
.
WHY USE
DISTANCE VISION SCREENING?
Distance vision screening is different to screening for other forms of vision such as reading, colour, contrast and visual fields. Different parts of the eye enable you to see clearly and the eye lens can change shape to help focus on nearby and distant objects. To screen for distance vision the lens needs to be in a relaxed state, usually performed in a specialised eye clinic at a distance of 6 metres.
As a screening test and to be practical in a general medical clinic setting, the Vula Vision screening is being conducted at 2 metres, the shortest distance at which the lens will remain in the relaxed state. A screening performed at less than 2 metres would cause the lens to change shape and would start a near vision screening, used for reading.
Dr William Mapham is an internationally recognized ophthalmologist with a longstanding academic track record and extensive experience in rural health care. Dr Mapham is also the co-founder of
Vula Mobile.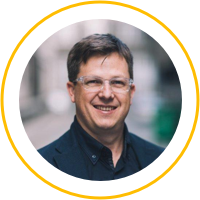 DR WILLIAM MAPHAM
Specialist Ophthalmologist,
FC Ophth DipOphthal MBChB
Senior Researcher Stellenbosch University,
Department of Public Health and Health Systems
Co-Founder: Vula Mobile
Good vision is a necessity for people to play an active role in our increasingly digital world. The first step is to make it easy for health workers with no specialist training to conduct vision screening.
The Vula Mobile screening tool does exactly that, helping identify people in need of eye care and linking them to optometry and ophthalmology services so that their vision can be improved.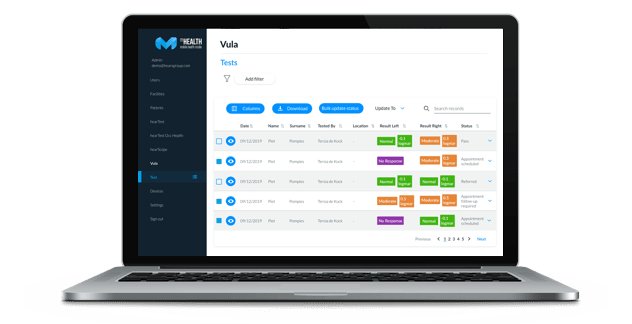 CENTRALISED
DATA MANAGEMENT
mHealth Studio is an integrated cloud-based platform for managing patient, practice and test data online, using our Cloud service called mHealth Studio Cloud. From mHealth Studio Cloud you can manage your referrals, download reports and manage all account and test details.
For more information, visit
mHealth Studio
get in touch
Want more info or have a question?
We're all ears. Leave your details below.
PRICING
Vula Vision is a hardware and software solution, annual software packages are based on volume usage.

SOFTWARE SUBSCRIPTIONS
View the Vula Vision FAQ's here.