By requesting a free demo, you will be asked to share your contact information in order for a sales consultant to get in contact with you and setup a session
UNLOCK THE POWER
OF REMOTE CARE
WHAT IS
HEARX SELF TEST KIT?
A tablet-based hearing care solution that enables you, as a healthcare professional, to offer counter-side, drive-through or home-based testing with remote support to patients. You can make treatment recommendations, including the fitting of hearing aids that can be provided in low- or no-touch alternative models of care.
YOUR LOW- AND NO-TOUCH
AUDIOLOGY SOLUTION
Changing times requires changing practices. hearX Self Test Kit enables new patient journeys that minimise risk to vulnerable patients and help audiologists to provide hearing care directly to patients.

The hearX Self Test Kit solution as a low- and no-touch audiology alternative:
Home testing
No-touch, quick at-home hearing assessment, easy-to-use and minimal risk of infection
Curb-side testing
Offer a low-touch, drive-through hearing assessment service
Counter-side testing
Low-touch, quick and easy in-store hearing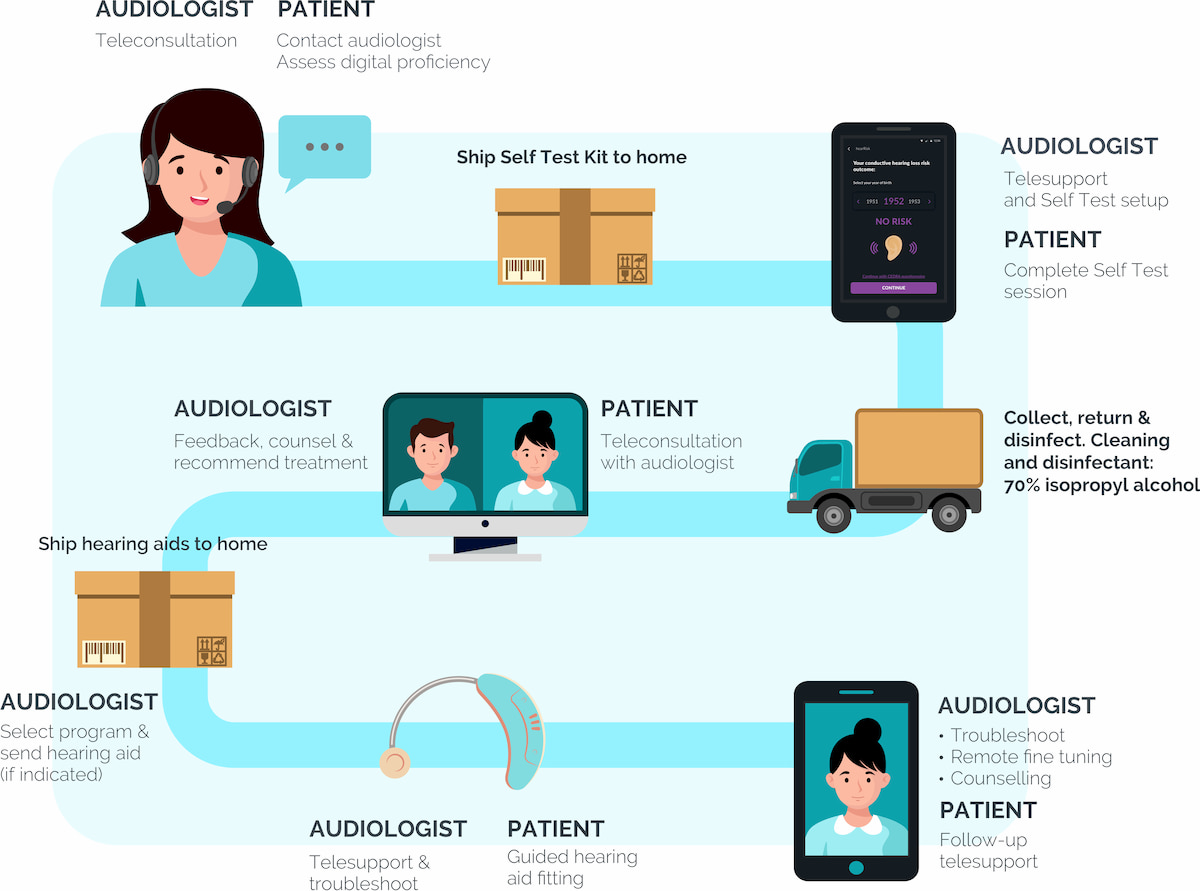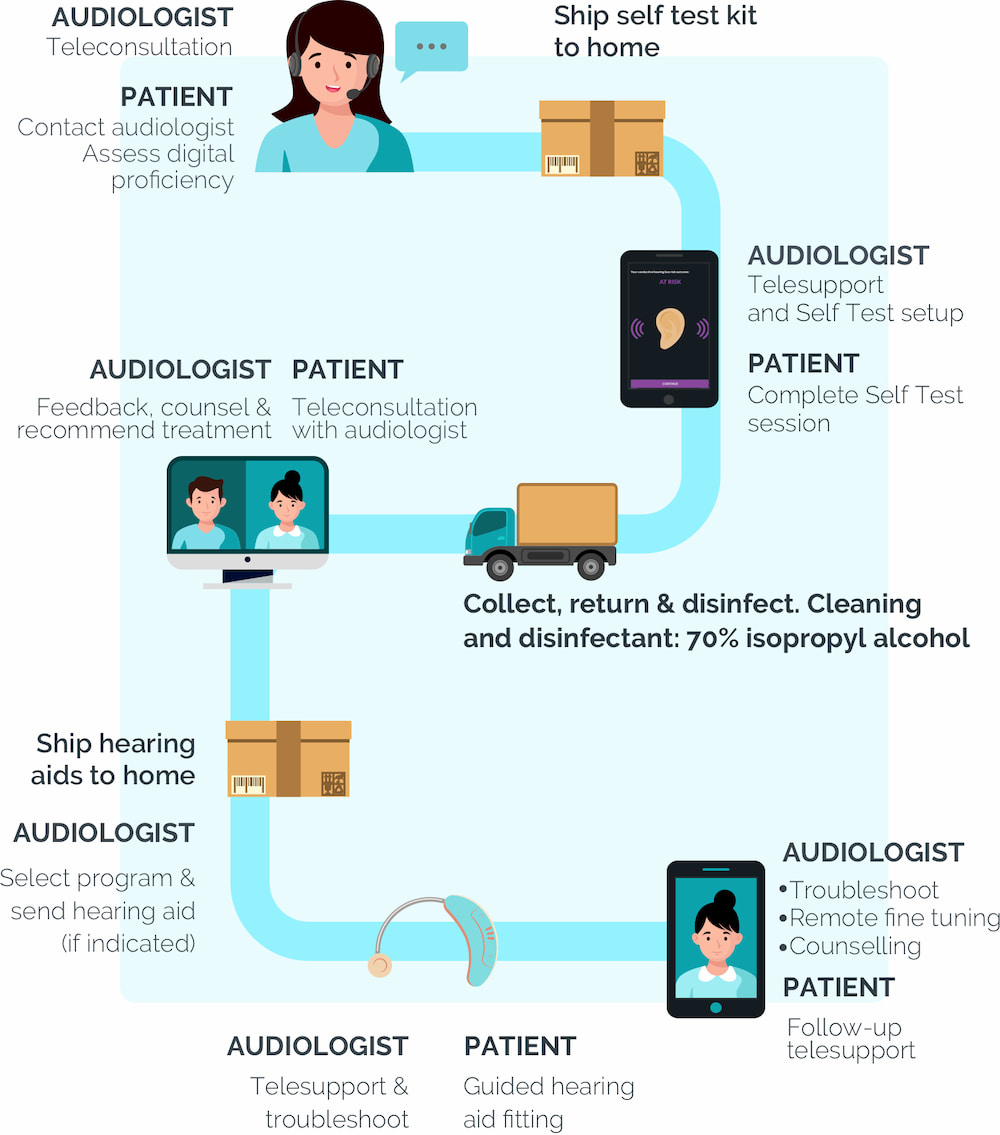 CUSTOMISE YOUR
OWN SELF TEST KIT BATTERY
A comprehensive solution that allows you to make treatment recommendations, including the fitting of hearing aids. Ideal for low- or no-touch alternative audiology care that includes:
Pure tone audiometry
hearTest™ is a CE and FDA registered digital pure tone audiometer (IEC 60645-1) with calibrated headphones offering rapid automated testing.
speech-in-noise
hearSpeech measures difficulty understanding speech-in-noise using a binaural digits-in-noise test. Informs patient care, counselling and hearing aid expectations. Word Recognition Score coming soon.
ear risk assessment
hearRisk assessment detects the risk of ear disease and is based on
i) Conductive loss risk algorithm (patent pending) with 94% accuracy;
ii) Asymmetric loss screening;
iii) Red flag questions.
CEDRA
questionnaire is an optional assessment.
mhealth studio cloud
Secure cloud access to patient results enables remote support, patient counselling, assistance and reporting. Test data seamlessly integrates with cloud data management system, mHealth Studio Cloud.
digital AI otoscopy (optional)
hearScope™
digital otoscope provides a safe, simple way to capture images of the eardrum with validated AI image classification for diagnostic categories.
*Data costs for device setup and test syncing not included in the package.
BENEFITS

OF HEARX SELF TEST KIT
RISK MITIGATION
Facilitate initial assessments and direct
adult patients for hearing aid fittings with
minimal face-to-face contact.
COST-EFFECTIVE
Affordable solution to leverage remote
and telehealth.
PATIENT REACH
Hearing assessments on both existing and new patients
in ways that work for them and minimise infection risk.
EAR RISK ASSESSMENT
Detect conductive hearing loss risk with a 94% accuracy
for cases requiring medical assessments.
INTEGRATION OF VIDEO OTOSCOPY
hearScope™ allows the inspection of the outer ear via
close-up photographs to assist with the formulation
of a diagnosis.
STEP-BY-STEP GUIDANCE
Easy-to-follow instructions guide patients
through the hearing assessment.
ENVIRONMENTAL NOISE MONITORING
Real-time smart monitoring of noise to alert
the user of environmental noise concerns.
CENTRALISED DATA MANAGEMENT
Seamless integration to the secure cloud data management
system to patients' results to enable remote support, patient
counselling, assistance and reporting.
COVID-19 AND TELEHEALTH

TRENDS IN AUDIOLOGY
Sennheiser HD 280 Pro headphones
Samsung Galaxy Tab A Tablet
TECHNICAL
SPECIFICATIONS
Pure tone test frequencies: 0.125 to 8 kHz

Rise/fall time: ~35 ms

Total harmonic distortion: <2%

Test intensity levels: 10 to 90 dB HL
PRICING
hearX Self Test Kit is a hardware and software solution, annual software packages are based on volume usage. Annual calibration fee payable. Hardware tablet option starts from $1330 once-off.

SOFTWARE SUBSCRIPTIONS